About Old Town Creperie, Flagstaff, AZ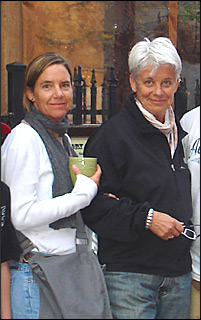 Who we are...
We are owner Jamie Whelan, and operator Laura Anne. We are partners and members of the Flagstaff community, and we run Old Town Creperie. We're proud supporters of the gay community, and happy to bring you the best (and only) crepes in town.
Old Town Creperie is a funky, yet elegant outdoor restaurant located in Historic Downtown flagstaff. A dog friendly establishment, Old Town Creperie is inviting to the entire community, including the four-legged members of their families.
Our Story...
We've lived in Flagstaff for almost 20 years, and we love it here. We acquired ownership of Old Town Creperie in 2007. It happened by chance when we were talking with a friend of ours, John Conley (current owner of Salsa Brava), who then owned Old Town Creperie. During the course of our conversation, he mentioned that he was thinking about selling Old Town Creperie.
We hadn't thought about it before that moment, but we replied that we might be interested in buying Old Town Creperie, and about 10 days later, we took over.
It was a completely spontaneous decision, and it only happened because the opportunity came along at just the right time. It might be one of the best spur of the moment decisions that we've made. We're thrilled to be a part of the community, bringing a new flavor to historic downtown Flagstaff.