Our Restaurant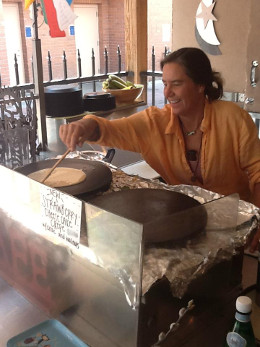 Peace, Love, and Crepes
Flagstaff restaurants are a staple of this historic town. Our creperie happens to fit right in with a fusion of progressive and unconventional elegance. Hand made crepes entice the sweet and savory taste buds in our creative rendition of this traditional French food with a New Jersey flare. Featuring an outdoor patio, Old Town Creperie is the perfect place to admire the delightful vibrancy of Flagstaff.
Crepes at the Market - You can get crepes at the downtown farmers' markets on Sunday mornings from 8:00AM to noon.
Old Town Creperie, neighboring historic Heritage Square, proudly serves and supports the local gay and lesbian community.
Eat Crepes Damn It!
We invite you to come out and taste a tantalizingly delicious crepe, made just for you.